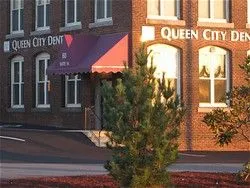 We encourage you to contact us via phone or e-mail.
IF you contact us via e-mail, please kindly write your name,
e-mail address, your telephone number, the best time to reach you together with your questions/comments.
Please, feel free to get in touch.
We're always happy to hear from you!
Queen City Dental
Dr. Marina E. Becker, D.M.D
60 Rogers Street, Suite # 1A
Manchester, NH 03103
Tel #: 603-669-3680
Fax # (603)668-8310
Office Hours:
Monday, Tuesday, Thursday, Friday
8:30am- 6:00pm
Our office is conveniently located within 2 miles from downtown of Manchester, NH with plenty of parking available.
Handicapped access is also available.
For further directions please feel free to click the map below.